Tyra looking gorgeous at an event with no polish at all!
Het is weer vrijdag dus Celeb Friday! Op verzoek is vandaag Tyra Banks aan de beurt. Het was niet makkelijk om foto's van haar nagels te vinden, aangezien de aandacht altijd uitgaat naar haar gezicht en wat ze aan heeft, maar ik heb toch wat foto's kunnen vinden!
Dit topmodel en zakenvrouw ziet er altijd, nou ja, bijna altijd op en top verzorgd uit, maar zorgt ze ook voor haar nagels?
Let's find out!
It's Friday again, which means Celeb Friday! On request I'll talk about Tyra Banks today. It wasn't easy finding pictures of her nais as most of the attention is always put on her face and what she's wearing, but I did manage to find a few pictures!
This topmodel and business woman, (almost) always looks perfect, but does that also go for her nails?
Let's find out!
Hier zien we Tyra met Justin Bieber bij de Teen Choice Awards. Haar nagels zien er verzorgd uit en heeft ze voor de gelegenheid oranje gelakt. Simpel maar leuk!
Here we see Tyra at the Teen Choice Awards with Justin Bieber. She has clean nails, with an orange mani. Simple but cute!
Tyra is hier bij de launch van haar boek, Modelland. Ook hier zien we weer oranje nagels!
Tyra is being photographed at the signing for her book, Modelland. Again, we see orange nails!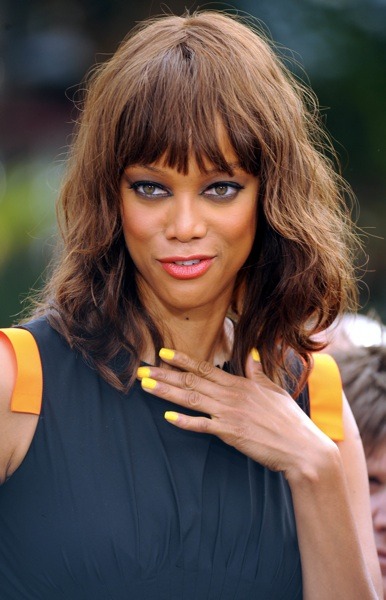 Hier zien we Tyra bij een evenement. Ze geeft haar outfit een boost doormiddel van haar gele nagels.
Here Tyra is at another event and gives her outfit some pop with her yellow nails.
Conclusie van deze Celeb Friday: Tyra houd nogal van geel en oranje. Ook doet ze niet aan nepnagels, maar houd het gewoon puur natuur. Leuk dat ze doet wat ze zelf wil en niet meegaat met de hype!
Conclusion of this Celeb Friday: Tyra loves yellow and orange. She doesn't do fake nails, but likes to keep things au naturel I love that she keeps it real, stays true to herself and doesn't get caught up in the hype!