Een remake van de originele serie. Ik persoonlijk kon niet wachten om deze film te zien, ook om te testen of de film het origineel enigszins kon evenaren. Ja ja ook
ik
was een fan back in the day! (wat voel ik me nu oud zeg :S)
Ik moet zeggen dat de film best leuk is en heb ook best gelachen. Jonah Hill en Channing Tatum zijn een goede match samen! Of het aan de serie kan tippen...hmmm daar ben ik nog niet over uit hoor!
A remake of the original series. I personally couldn't wait to watch this movie and see for myself if the movie was as good as, or even better than the original show. Yup, I too was a fan back in the day! (boy do I feel old now :S)
I have to say that I quite enjoyed the movie, and had some good laughs. Jonah Hill and Channing Tatum are a good team! If the movie is just as good as the series...hmmm...still thinking about that one!
Cool moment: Johnny Depp die een cameo verschijning heeft als zijn oude karakter samen met zijn oude vaste partner gespeeld door Peter DeLuise.
Cool moment: Johnny Depp making a cameo as his old character together with his old partner played by Peter DeLuise
.
Johnny Depp and Peter DeLuise
Het verhaal: '21 Jump Street' is een speciale undercover afdeling van de politie. Binnen deze afdeling zitten agenten die middelbare scholieren spelen met als doel drugsbendes op te rollen. De nieuwste leden van het team zijn Schmidt en Jenko, twee groentjes die elkaar nog van de middelbare school kennen. Schmidt was het pispaaltje en Jenko was de populaire gast. Inmiddels zijn ze beste vrienden geworden.
Wanneer ze hun eerste arrestatie hebben verprutst krijgen ze nog een laatste kans om wat van hun politiecarrière te maken: ze krijgen de opdracht (van de geweldige Ice Cube als hun baas) undercover te gaan als scholieren op Sagan High. Hier moeten ze ontdekken wie verantwoordelijk is voor het verkopen van de populaire maar gevaarlijke nieuwe drug H.F.S. (Holy Fucking Shit). Je kan je al voorstellen...er gebeuren allerlei grappige dingen tijdens hun undercover actie.
Je zal de film zelf moeten kijken om erachter te komen of ze de drugsbende samen op kunnen rollen.Wat denk je, zal het ze lukken?
The Story: '21 Jump Street' is a special police undercover unit. The cops that are part of this unit go undercover as high school students with the goal to bust a drug ring. The newest members of the team are rookies Schmidt and Jenko, that know eachother from high school. Schmidt was the nerd and Jenko was the popular jock. They are now best friends though.
When they mess up their first arrest they get one final chance to make something of their police career: Their boss, Captain Dickon (played by the amazing Ice Cube) assigns them to go undercover as high school students at Sagan High. Here they have to find out who is responsible for selling the populair but dangerous drug H.F.S. (Holy Fucking Shit). You can imagine....lots of funnny things happen during their time undercover.
You will have to watch the movie for yourself to find out if they'll be succesfull in their task. What do you guys think?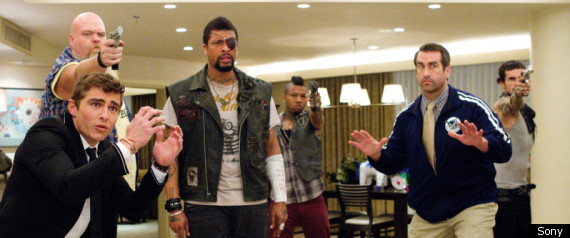 The very funny DeRay Davis is also part of the cast!
Source: IMDB