Wat doe je als je ziek bent? In bed liggen, slapen en films kijken. Tenminste...dat is wat ik doe lol
Ik had een goede griep te pakken dus aardig wat tijd om tussen het slapen wat filmpies te kijken.
Een van de films die ik heb gekeken is Wanderlust. Zoals jullie misschien al weten ben ik een grote Paul Rudd fan dus als er een nieuwe film van hem uit komt probeer ik die dan ook zo snel mogelijk te kijken.
Ook deze film was leuk om te zien maar niet zijn beste film moet ik eerlijk zeggen. Als ik kijk naar de matige reviews die de film heeft gekeken ben ik dus niet de enige.
Af en toe zijn er wel lach momenten, door het goede acteer werk van Paul en Jennifer Aniston helpt ook wel een handje mee lol. Maarja overal genomen, vond ik het niet meer dan een 6je waard...jammer..
What do you do when you're at home with the flu? You stay in bed, sleep and watch movies. At least...that's what I do lol
I had caught a real bad case of the flu so I had quite some time left in between sleeping to watch some movies.
One of the movies I checked out was Wanderlust. As some of you may know I'm a huge Paul Rudd fan so whenever he releases a movie I try to check it out as soon as I can.
This was another nice movie to watch but I do have to say..not his best movie. When I read the so so movie reviews I guess I'm not the only one.
Every now and then there's a couple laughs, but that's because Paul's so funny and Jennifer Aniston does help lol. Looking at the overal movie though...I think it's not worth more than a C+ :(
Het verhaal: George (Paul Rudd) en Linda (Jennifer Aniston) zijn getrouwd, wonen in New York maar zijn eigenlijk diep ongelukkig met hun leven. Nadat George wordt ontslagen en Linda's nieuwe 'project' niet aan slaat gaan ze noodgedwongen bij de broer van George inwonen die in Atlanta, Georgia woont. Op weg hier naartoe rijden ze langs Elysium, een soort commune waar iedereen vrij en blij met elkaar samen leeft. Alles wat in de 'echte' wereld belangrijk is zoals geld en een carriere zijn hier niet belangrijk. Je doet alleen maar waar jij je goed bij voelt.
some privacy in the bathroom lol
Nu is natuurlijk de vraag; kunnen George en Linda het hier langer dan een dag volhouden of worden ze al na een paar uur gillend gek?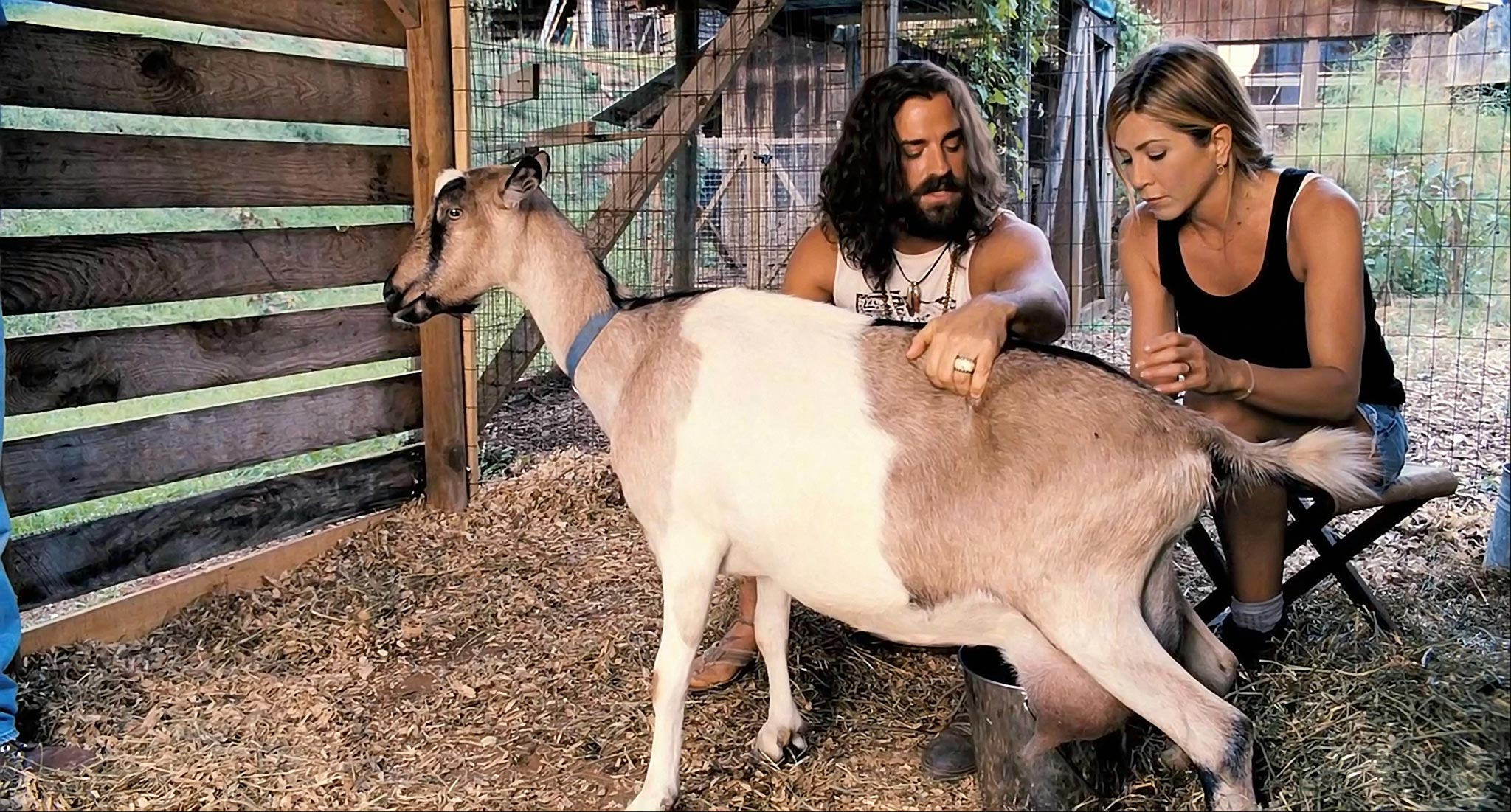 The story: George (Paul Rudd) and Linda (Jennifer Aniston) are married, living in New York but are in fact deeply unhappy with their lives. When Paul loses his job and Linda's new 'project' fails to get off the ground they lose their home and are forced to move in with Paul's brother in Atlanta Georgia. On their way there they drive past Elysium, a commune where everyone lives easy and free. Everything that matters in the real world like money and a career is not important at Elysium. You only do what feel right for you.
Now you're probably wondering; will they be able to handle that for more than a day or will they go crazy?? You'll have to see for yourself!