Alweer een vervolg in de Step Up filmreeks. Aangezien ik een sucker ben voor dans films wilde ik deze toch zien....
Het verhaal
: In Miami is een Flashmob (dansgroep The MOB)actief die de boel op stelten zet. Wanneer Emily (Kathryn McCormick) naar Miami komt om professional danser te worden zet de leider van The Mob, Sean (Ryan Guzman) haar hele wereld op z'n kop. Wanneer Emily's vader (een rijke zakenman) de buurt waar de dansgroep is opgegroeid en nog steeds woont wil opkopen begint de strijd; zal het de dansgroep lukken om de plannen te stoppen en wiens kant zal Emily kiezen? Haar vader of haar vriendje?
Conclusie
: het verhaal is flinterdun maar leuk om een keer gezien te hebben. De chemie tussen Emily en Sean is goed en dat helpt een film altijd lol. Ik geef de film een 7 en dat komt dan meer door alle vette dansmoves en niet door het verhaal!
Another sequel to the Step Up movies. Seeing that I'm a sucker for dance movies, I had to watch this one....
The story: There's a Flashmob active in Miami (dancegroup The MOB). When Emily (Kathryn McCormick) comes to Miami to become a professional dancer, the leader of the The MOB, Sean

(Ryan Guzman)

turns her world up side down when she falls for him. Emily's dad however (a wealthy business man) ruins things when he has plans to buy up the entire neighbourhood where the dancecrew grew up and still lives. That's when the battle begins; will The MOB be able to sabotage the plans? Who's side wil Emily chose? Her dad of her boyfriend?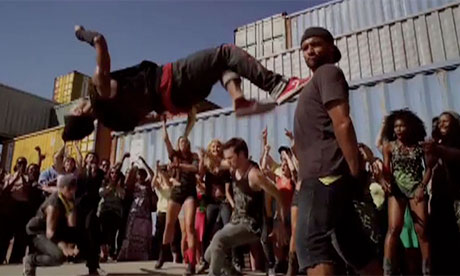 Conclusion: the story is paperthin but it's cool to have seen it once. The chemistry between Emily and Sean is definitely there which always helps a storyline lol. I give the movie a B-, but that's because of the cool dancemoves and not because of the storyline!